Retro Bowl: Merging Vintage Aesthetics with Modern Football Strategy
Welcome to Retro Bowl, a captivating football simulation game developed by New Star Games that seamlessly blends the excitement of American football with the charm of classic pixel art graphics. This game has garnered a dedicated following for its user-friendly gameplay, strategic depth, and its ability to transport players back to the golden era of video games.
Gameplay:
Step into the shoes of a head coach and team manager in Retro Bowl. This game offers a unique and simplified football simulation experience, allowing you to make crucial decisions both on and off the field. Manage your team's roster, devise effective plays, and implement coaching strategies.
Retro Bowl's controls are user-friendly, ensuring that both football enthusiasts and newcomers can enjoy the experience. It combines real-time football action with comprehensive team management.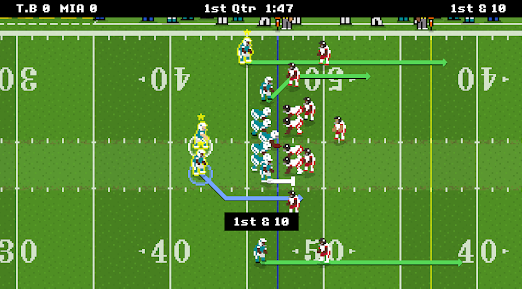 Themes: Retro Bowl pays homage to classic sports video games of yesteryears. It captures the essence of early video game aesthetics with pixelated graphics while delivering an engaging football management experience that requires strategic thinking and tactical prowess. The game underscores the importance of teamwork, smart decision-making, and coaching acumen.
Visuals and Sound: The game's visuals harken back to the golden age of gaming with pixelated players, stadiums, and animations. This pixel art style provides a nostalgic and engaging football experience. The chiptune soundtrack adds to the retro atmosphere, reminiscent of classic video game soundtracks.
Character Development: Character development takes center stage in Retro Bowl. Players draft players, nurture their skills, and build team chemistry as they progress through the game. This element adds a sense of attachment as players see their team grow and improve over time.
In conclusion, Retro Bowl is a delightful blend of classic gaming aesthetics and modern sports simulation. It provides a user-friendly and enjoyable football experience with a dash of strategic depth. Whether you're a lifelong football aficionado or simply seeking a unique and entertaining gaming adventure, Retro Bowl invites you to create your own retro football legacy. With its engaging gameplay, pixel art charm, and team development components, it's a game that encourages players to relive the nostalgia of vintage gaming while crafting their football dynasty.
Instructions
Use mouse
Categories & Tags
Discuss: Retro Bowl