Merge Monsters Army: Unleash the Power of Your Monster Army
Merge Monsters Army is a thrilling monster-fighting game that challenges players to build and strengthen their very own monster army. Your success in this game hinges on your strategic prowess and your ability to merge monsters to create an unstoppable force. Get ready to embark on an epic monster-battling adventure!
Gameplay: In Merge Monsters Army, your primary objective is to defeat your adversaries by assembling a formidable monster army. To achieve this, you'll need to gather gold coins, which serve as your in-game currency. These coins can be used to unlock new monsters and strengthen your existing ones.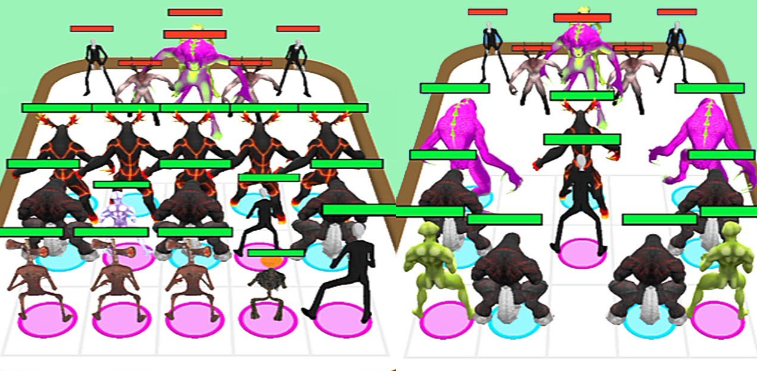 Key Features:
Unlocking Monsters: As you collect gold coins throughout the game, you'll have the opportunity to unlock new and diverse monsters. Each monster comes with its own unique abilities and strengths.

Monster Merging: The game introduces an exciting mechanic where you can merge two identical monsters to create a stronger, more powerful monster. This merging process allows you to customize and upgrade your army, enhancing your chances of victory in battles.
Strategic Gameplay: Merge Monsters Army is not just about collecting monsters; it's about strategizing and creating the ultimate monster army. You'll need to carefully choose which monsters to merge, considering their abilities and roles in your army. The ability to merge monsters adds a layer of depth to the game, as you decide when and how to strengthen your forces.
Unleash Your Power: As you progress through the game, your monster army will grow in strength and versatility. The more you unlock and merge monsters, the more powerful and varied your army becomes. This allows you to tackle tougher opponents and overcome challenging battles as you advance in the game.
Enjoy the Challenge: Merge Monsters Army promises a fun and engaging gaming experience that rewards strategic thinking and decision-making. As you unlock new monsters, merge them into powerful entities, and strengthen your army, you'll find yourself immersed in a world of monster battles and strategic conquests.
So, have fun collecting, merging, and battling with your monsters, and may luck be on your side as you strive to build the most fearsome monster army in Merge Monsters Army. Good luck, and enjoy the thrilling journey of monster warfare!
Instructions
Using Mouse
Categories & Tags
Discuss: Merge Monsters Army